Lost Stories of the Civil War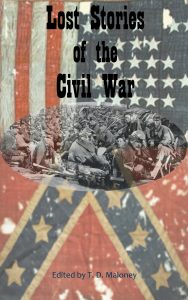 Detailed stories of American Civil War Battles and tales of derring-do.
A unique collection of over 160 articles written by Civil War veteran and journalist/editor, George Langdon Kilmer. The stories in this book have never before appeared as a complete collection. The articles ran as a serial in newspapers across the Unites States from 1902 to 1905 and were rarely—if ever—republished.
Based on personal experiences of the author and other veterans, as well as official records, these lost stories provide a vivid history and tales of adventure and valor. This work is an entertaining and interesting read for anyone interested in the Civil War…from the casual reader to the die-hard enthusiast and authority.
Just a brief note…this work contains language that some may find objectionable or offensive. These stories were written more than one hundred years ago, long before the era of "political correctness." The author used the common vernacular of the time and did not intend to offend anyone. As a matter of historical preservation no changes were made to the original work other than to correct spelling.
Approximately 875 pages
 Available in print early 2017