A Brief History of Old Company G in the Great War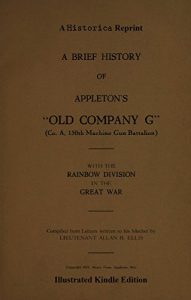 Also known as A BRIEF HISTORY OF APPLETON'S "OLD COMPANY G" (Co. A, 150th Machine Gun Battalion) WITH THE RAINBOW DIVISION IN THE GREAT WAR
A very brief history of A Company of the 150th Machine Gun Battalion in World War I. This work is a compilation of letters written by Lieutenant Allan Ellis to his mother.
This work is a digital reprint of the original 1919 work by Loomis & Company. Historica Research and Records makes every effort to present classic works as they were originally published. In this edition we have maintained everything except hyphenation. All misspelling and typographical errors have been reproduced. Any photographs and illustrations have been digitally enhanced and resized to allow for the best display quality. The maps printed in the original version are extremely large and have been omitted from this digital print.
Historica has created a comprehensive index to the names, places, and units included in the work.